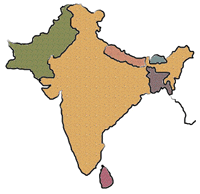 India Relief and Education Fund (IREF) is an all volunteer 501(c)(3) California based non-profit organization that raises funds for disater relief in India and supports India related social awareness education activities in India and in the U.S.  IREF stands for a socially just, secular, democratic and united India. Donations for donor specified organizations in India, consistent with IREF's objectives, are welcome.

Please support the work of IREF with your tax-deductible contributions. There are many ways you can contribute.

1. By check mailed directly to                    2. By contributing Online











using your Credit Card
   India Relief & Education Fund

   P.O. Box 14360

   Fremont, CA 94539

3. By donating your used car. 
PLEASE NOTE:
As of January 1, 2005, the donor may not be able to claim the fair market value of the car (in excess of $500) as tax deduction. The deduction amount will be limited to the actual sale price of the car, which is much less than the fair market value since car donation processing businesses auction cars at much lower prices. Check IRS
Publication 4303
(
A Donor's Guide to Car Donations
) for recent changes in the law. 
Click here for other details.
National Fishworkers' Forum (NFF)
-- NFF is a federation of about a dozen state level registered fishworkers' trade unions in India. Fishworkers working in mechanized or non-mechanized crafts, processing plants and those working in marine and inland sectors are represented by the Forum.
Sahabhagi Vikash Abhiyan (SVA)
-- A collective of 23 community based organizations of small farmers, agricultural workers, Adivasis and Dalits and many individuals dedicated to fighting poverty and injustice. The group is based in Orissa and was in the forefront of relief work during the 1999 super-cyclone.
Denotified and Nomadic Tribes Rights Action Group (DNT-RAG)
-- Works for the constitutional guarantees for the protection of rights of communities classified previously by the British colonial administration as criminal. Despite their "denotification" in 1952, these communities continue to face police victimization and social ostracism.
Gramin Vikas Vigyan Samiti (GVVS)
-- For 18 years GVVS has worked in the rural communities of Thar desert region in Rajasthan in the conservation and development of water resources. GVVS played an active role in providing relief during the Rajasthan drought of 2000.
FRONTIER
--A progressive weekly from Calcutta, working on a shoe-string budget needs subscribers and financial support.
IREF supports the following organizations among many others.

Please support IREF with a donation today.